In the morning we went to Almaty Green Bazar to see the traders and buy some souvenirs. Thereafter we visited the part of the 28 guardsmen who saved Moscow the 1940s. It features a memorial of the great patriotic war and eternal flame. With 38°C it was a quite exhausting walk.
In the afternoon Kostya picked us up to drive to Almaty Lake, at 2500m attitude. It was quite nice to escape the heat and walk next to the lake. It's forbidden to get close to the water or touch it, and police at least tried to get the locals away
In the early morning we went to the airport to fly to Kyzlorda. There we met our driver who was late, because he had the wrong time of arrival. He was super tired and we were afraid that he will fell asleep all the time, so we talked to each other in german to keep him awake
Arriving at the Baikonur gate were also too early and he forgot to call our tour guide to pick us up. So, we had to wait, and we got around 45°C. But at least they let us in, not like last time I was there
In the afternoon our guide picked us up to a tour around Baikonur town to see all monuments and the local museum. It features some exhibition about space programs and astronauts.
This is the launch of Soyuz/Progress rocket to ISS space station at 03:51 kazakh time. Liftoff and docking worked as expected. Launch went off launchpad 31, which is the second one build for Soyuz and is rarely used. Observation point was about 1km away and it was quite impressive in terms of noice and brightness.
The morning after the launch we went to Cosmodrome again. We did see launchpad #1, where Yuri Gagarin went off to the first flight of a human into space. The three squares marks the place where the astronauts have to stand to do the last report to mission commander..
This is Buran launch complex, which consisted of the assembly hall for the rocket and the Space Shuttle like space ship, an engine test building, three launch pads and two underground command centres. Buran is still inside assembly building, but the roof collapsed, so it's not possible to see this one. Its also dangerous to go to launchpads, so were only allowed to see them from some distance. Command centre was really interesting, all the computers still work and you are allowed to press the buttons
We also visited Baikonur museum, with a lot of interesting exhibitions, really too much to see it all in detail. They also have a Buran space ship out side and it's possible to see it from inside.
The last part of the tour was measuring center, which can be seen from the main road. It is a small hill where they placed all the antennas. There it was incredibly hot, around 50C. The day before we had some rain, but the raindrops did evaporate before they touched the soil. We also saw the house where Koroljow and Gagarin lived. Last stop was austronaut hotel where the cosmonauts stay before their takeoff and usually plant a tree at cosmonaut alley. We found the tree of Sigmund Jaehn, first cosmonaut of GDR.
Our hotel was dormitory for Baikonur workers and had some true soviet style
:) After two days on super hard mattress we took the high speed train to Turkestan. It's a super relaxed experience even if the train reaches 100 km/h. Train was 7h for 550km.
The Mausoleum of Khawaja Ahmed Yasawi is a mausoleum in the city of Turkestan, in southern Kazakhstan. The structure was commissioned in 1389 by Timur, who ruled the area as part of the expansive Timurid Empire, to replace a smaller 12th-century mausoleum of the famous Turkic poet and Sufi mystic, Khoja Ahmed Yasawi. However, construction was halted with the death of Timur in 1405.
Otrar is a Central Asian ghost town that was a city located along the Silk Road. It was the center of a great oasis and political district, commanding a key point connecting Kazakhstan with China, Europe, Near and Middle East, Siberia and Ural. The area of the settlement is about 2 square kilometres. The Ark and Shahristan formed a five-corner hill about 18 meters of height. The town was densely populated: the houses stood close to each and formed the group of quarters or blocks. The baths had central halls for bathing and massaging, rooms for undressing, restrooms and a prayer room. They had hot water supply systems. It was unbelievable hot, it was like walking the desert with a caravan.
Back in Almaty we went with a new cable car onto Kök Töbe. There is a television tower and some amusement park.
It was so nice to see our frinds again and check out their new swiming pool
We did drive to Issyk Kul Lake to spend a few days in a resort like pensonat. With full board meals and lots of fun in the water.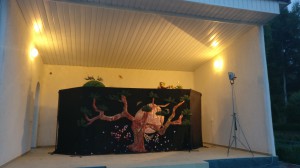 The 42 hectares of the museum are dotted with stone circles, tombs, balbals, and a variety of petroglyphs. These petroglyphs date from the 2nd millennium BCE up to the 4th century AD. The boys were more interested in climbing the rocks, so it was great fun for them.
For some off road fun and hiking we went to grigorjeva gorge. There we had some food from shepards, after we hiked from the first to the second lake. The boys loved to ride horse.
In the evening we went to a russian circus. Overall it was great fun for the kids, but they had a lot wild animals living in cages and let out only for the show.
We changed from Toyota Landcruiser to Nissan Patrol for going to hot springs. Road was funny and the springs super hot
:) It took us one and a half hour each way. The hot water pools where inside small houses which looked quite old and it took a while to go inside.
In the early morning we went to Karakol sunday animal market. Mats wanted to buy a bird to let him fly but they only had big livestock
.
We did rent two quads from Evgeny to ride to Djeti-Orguz. This is a beautiful valley with lots of nice roads for ATVs just 20k away from Karakol. Mats did ride in front of me and Michaela did ride with our guide. ATV in Kyrgyzstan can have plate numbers, so its pretty legal to ride them on the normal roads.
Next day we went with Landcruiser to Juuku valley. We did know that the hot springs and waterfall is on the left gorge, but we weren't sure which one is the left one. The good thing about to pick the wrong was, that we did go the right one until the end. It was a nice off road track next to the river. After asking around, we figured out that the hot springs were on the other gorge. We had picnic and went to the place with springs to have a not so hot as last one swim in the pools. After, I was ready to jump into the cold mountain river
Karakol was founded as Russian military outpost on 1 July 1869 and features some nice old house, a wooden church and the museum of Nikolay Przhevalsky.
On the way to Kochkor we did a trip to Barskoon gorge to see the waterfall. Mats did ride horse we hiked up.
The fairy tale canyon is a place were the red sandstones have been eroded and shaped by the elements.​ There is a large variety of shapes from towers to waves to crest-like rocks. Some people see castles… Hence the name fairy-tale. After, we had some picnic next to a river.
We took the long way to the chinese border to see Tash Rabat, an old caravansary dating from 14th century. The very remote place is connected by new silk road build by Chinese a few years ago. The road was about 50km without a single turn running along a high valley.
Sergei Dubovik was sure that he has to rescue us from the swamps, but we did encircle Song Kul lake without getting stuck in the mud
:) On the road we picked up Elena and Meteo, they joined us for a little while in the car and wanted to hike further. Before everybody going his way, we had a nice picnic together. It was very nice to meet them, especially for Mats to find somebody to speak German to
Staying in a yurt at Song Kul lake is a quite unique experience. There are no trees and only some people living in yurts at 3300m. We rented some horses to ride to the shore. In the evening they heated our yurt up to 60°C and the temperature did drop to freezing during the night. Next day we took the pass road via Suusamyr to Bishkek, 200 of 300 km off road.
We are going home, some Kyrgyz are going to Saudia Arabia for Hajj.